SKID MOUNTED LIGHT TOWERS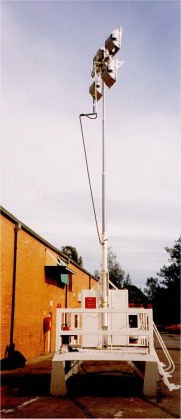 Our skid based lighting towers are designed for the toughest of industrial and mining environments and can withstand the demands of heavy mining applications. To maximise the up-time of the lighting tower, only high quality components are used to ensure a high quality, robust, and low maintenance cost lighting tower. The standard skid lighting towers are available in either 6000 or 8000 watt configurations with higher/custom ratings available upon request.
We have manufactured to various multi-national companies over 450 mobile lighting units over the past ten years delivering quality products at a reasonable price both domestically and into South-East Asia.
Features
We have an extensive range of portable lighting towers, designed for mining applications, engineering construction sites, or any situation where high intensity portable lighting is required.
Our attention to detail and application of clever ideas has resulted in a compact and rugged transportable skid based lighting tower.
Some features of our lighting towers include:

Three Stage Hydraulic Mast — 360 degrees plus mast rotation with the ability to aim each light individually.

The skid & mounting section is made of 20 mm steel and is designed to float over dirt gravel and other surfaces typically found in mines. The skid is designed so that the unit can be pushed into position from any direction or side of the unit.

To protect lights, plus minimize length, lights can be stowed above the unit whilst in the transport position. This protects the light-heads from damage during transportation.

Simple, straight-forward operation, allowing full operation by a single operator.

120 litre fuel capacity with easy fill feature for long operating times.

Rugged lockable steel cabinet finished in a durable two pack finish

Maximum accessibility for service and maintenance.

The lights are metal halide for improved visibility. Sodium based lamps are available for high fog and dust environments.

Fully labeled control panel with individual circuit and protection light switches for added safety.
Generator/Lighting System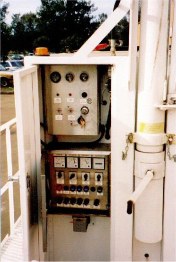 Both the 6000 and 8000 watt towers use a Stamford brushless AC generator system operating at 415 volts AC. The 8000 watt model is rated at 13.5kVA 50Hz continuous at 1500 rpm, while the 6000 watt unit is 11.0 kVA 50Hz continuous at 1500 rpm.
Monitoring of the generator system is easy via a set of backlit gauges within a simple control panel. The gauges monitor generator volts, amps, and frequency.
The outgoing supply from the generator is protected by a 63A three phase earth leakage circuit breaker. All wring is suitably identified using a permanent cable marking system.
The light fittings (8000 watt tower) are four 2000 Watt Metal Halide resulting in a lighting power of approximately 770,000 Lumens. While the light fittings (6000 waft tower) are four 1500 Watt Metal Halide resulting in a lighting power of approximately 580,000 Lumens.
The Tower's Structure
There are basically three major sub-sections to the structure of the tower, as follows:
1 — The skid & mounting section is made of 20 mm steel and is designed to float over dirt gravel and other surfaces typically found in mines. The skid is designed so that the unit can be pushed into position from any direction or side of the unit. Protective bash bathers (wooden replaceable) have been incorporated into the skid to ensure that the structural steel sections remain intact and damage in moving the unit is limited to the protective bash areas which are replaceable.
If required, the design allows for removable concrete ballast to the tower to increase the stability of the tower. The skid tower is designed to fit on the back of a 30 foot tray top truck and can be easily loaded using a tilt tray truck for ease of transportation between sites.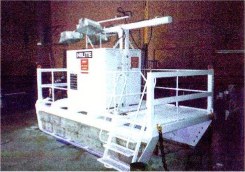 2 — The
body & floor section
is designed for easy access for maintenance and service. The engine, generator, and electrical and hydraulic components are mounted within a single easy accessible (from 3 sides) enclosure. The floor of the unit surrounding the enclosure is of steel mesh for use in mines and other hazardous applications, so as to allow for a non-slip surface and for easy cleaning of dirt and other foreign material. The enclosure is illuminated for night work utilising an integrated 12 volt lighting system. Safety rails are provided around the unit
3 — The mast section is directly above the canopied area. The boom is activated by a hydraulically operated 3 section telescopic ram operated by a low pressure high volume pump lifting the lights 10 metres above the ground. The lighting unit can rotate through a full 360 degrees, from the base of the tower for easy operation. The ram is fitted with a tilt shut down facility for automatic lowering of the hydraulic boom if the unit is hit too hard or is at an unsafe operating angle.
In general the unit is engineered to suit the operating environment of a mine site and allow for suitable protection from the elements for those pieces of equipment requiring such protection.
All painted metal surfaces have been treated using Amerlock 400 for corrosion protection in accordance with the relevant Australian Standards. AS1627.7 and 1627.4. This application is suitable for protective coating system to mild steel in a mild chlorinated water environment.
Regulation Compliance & Standards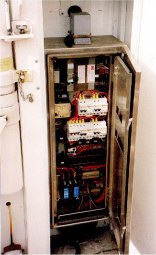 The specification of the light, towers complies with the following Regulations and Standards:

New South Wales Mines Regulations Act 1984

New South Wales Coal Mining Act

MDG15 Guidelines for Surface Mobile and Transportable Plant for use in Coal Mines

AS 3000 SAA Wiring Rules

AS 3007 Electrical Installations Surface Mines and Associated Plant

AS 1042 Direct Acting Indicating Electrical Measuring Instruments and their Accessories

AS 1675 Current Transformers for Measurement and Protection

AS 2081 Electrical. Equipment for Coal Mines and Shale Mines-Electrical Protection Devices

AS 1136 Switchgear and Control Gear Assemblies for Voltages up to 1000 VAC
Options Available


Additional Welding Outlet
— a DRC protected 30A welding outlet mounted adjacent to the control enclosure via a weather proof three phase plug. This is available on the 8000 Watt tower only.

Caterpillar booster plug
is available on both 6000 and 8000 models.

Interchangeable Metal Halide High Pressure Sodium
lighting also available.

10,000 and 12,000 Watt
skid tower version.

Pontoon Floats
rather than skids. (useful for muddy applications)

Electrically operated light adjustment
mechanism (tilting light-head).

Photo Electric Cell Shutdown
for automatic dawn shut off.

12 Metre Mast Extension
with look down capability based on a hydraulically activated mast rather than a vertical ram assembly

Removable Engine and Alternator
where these are located on a removable skid, if required.